Before boring science rained on its parade, alchemy was an exciting field of study. Medieval researchers – let's call them sorcerers – were hunting wild stuff such as the elixir of life or a way to transform ordinary metal into gold. In that sense, Dungeon Alchemist hasn't completely stolen its name: the newest project by veteran developer Karel Crombecq and illustrator Wim De Hert sure has a magical knack for turning things into money.
Point in case: the AI-powered map-making software soared past its initial Kickstarter goal of € 45.000 in just three hours. At the time of writing 3198 backers have contributed € 137.156 to the project. It's not hard to see why, either. The tool lets roleplayers swiftly create, print, share, and import all kinds of fantasy maps for their campaigns.
The ease with which rooms and objects magically pop into existence by simply drawing a shape feels satisfyingly reminiscent of games like Townscaper and Cloud Gardens. Being avid roleplaying fans themselves, the team knew creating high-quality content at such speeds is nothing short of a roleplayer's wet dream.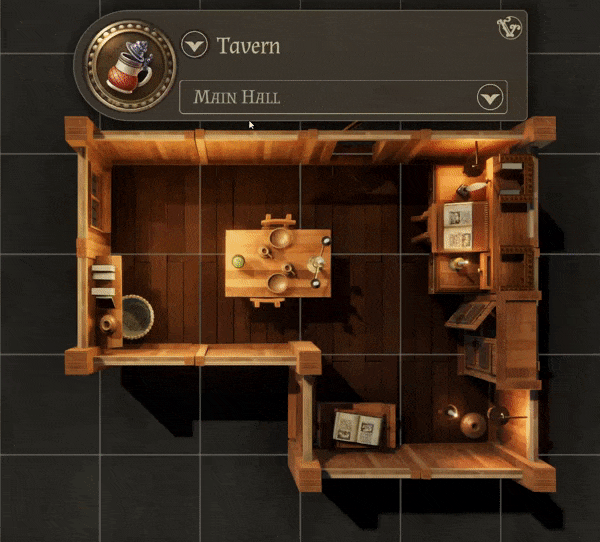 Still, Karel Crombecq didn't anticipate this kind of success: "I was quite convinced we had found a gap in the market, but you're never sure how big the audience you're gunning for really is. And then there's still the question of being able to reach them. So yeah, we're happily surprised!"
As the money keeps coming in, the team has prepared a range of stretch goals to grow the ambition of their project. Tricks and traps, Steam Workshop support, a winter theme, all kinds of watercourses, and more detailed objects have already been unlocked. Next up are villages and farms at € 140.000 and a lava theme at € 170.000. At an undisclosed number that's probably € 200.000 Dungeon Alchemist will be infused with the alluring power of magic.
And beyond? Crombecq keeps his feet on the ground: "We've prepared stretch goals until € 500.000 but I'm not sure if that's realistic. Kickstarter campaigns tend to slow down after the first few days, so I don't think we're going to quintuple the current amount. To me, everything above € 200.000 would be madness."
There's still 27 days to go though, so time will tell if that modesty is warranted. The way they go about gradually announcing the stretch goals might keep the community engaged to come back and perhaps up their pledge to reach for a particular interesting stretch goal.
If you're interested to keep tabs on the campaign, you can do so on the Kickstarter page, but you might also join their Discord, or follow them on Twitter and Facebook. We for one will keep an eye out where this promising project will end up.