Wipe that Saharan sand from your windows, because today it's all about that fresh and powdery snow. Developed by an international band of video game creating snowboard punks, centered around I-Illusions captain Dirk Van Welden, Shredders is a snowboarding dream come true. Not in the least for its creators.
Having whipped up snowboarding prototypes for as long as he can remember, things started to happen when Dirk Van Welden and Marcus Forsmoo bonded over their passion for snowboarding and video games. Sharing a love for the Amped series of the early 2000's, the two set out to create a vertical slice for what their dream snowboarding title would look like. With the backing of Microsoft, they got a chance to turn their creative vision into a real video game.
A couple of years and notable E3-trailer appearances later, here we are: Shredders is out today on Game Pass (both Xbox and pc) and Steam and there's plenty of stuff for snowboarding enthusiasts to get excited about. The team has always described it as a title "by riders, for riders", and while we have the snowboarding skills of an elephant with vertigo, you can feel how the developers tried to map the real experience to the screen as best they could.
This is not a game where you'll be breakdancing around your board while flying through the air just by mashing the buttons. No, you'll need a keen sense of timing and use every muscle in your body to perform all kinds of spins, grabs and flips. Performing those feels very natural and there's something relaxing about trying to string them together while you're cruising down a mountain. Pro tip: when you commit to a move, really commit to it, or you're sure to end up with a faceplant in the cold, white dust.
That's not to say there's no room at all for a little crazy. Leave that up to the narrative department! The story follows a nameless boarder (you) and his very Australian mate Scotty who are shooting cool snowboarding videos for their Instagram. They meet marketing guru Lisa, who in turn introduces you to a range of real-life snowboarding professionals, including Jamie Anderson and our Belgian pride Sebbe De Buck.
Taking a page out of the book of the latest Forza Horizon, the story is a campy affair that doesn't take itself too seriously by design, which suits the theme of the video game. The "everything's awesome" party vibe can get a bit much at times and not every pro is destined for a career as a voice over, but there's some genuinely laugh out loud lines in there. It also does an excellent job of easing newcomers to the world of snowboarding, gradually explaining the controls and how to master the moveset. You'll gradually unlock more areas to show off your tricks and more officially licensed gear to deck out your snowboarder.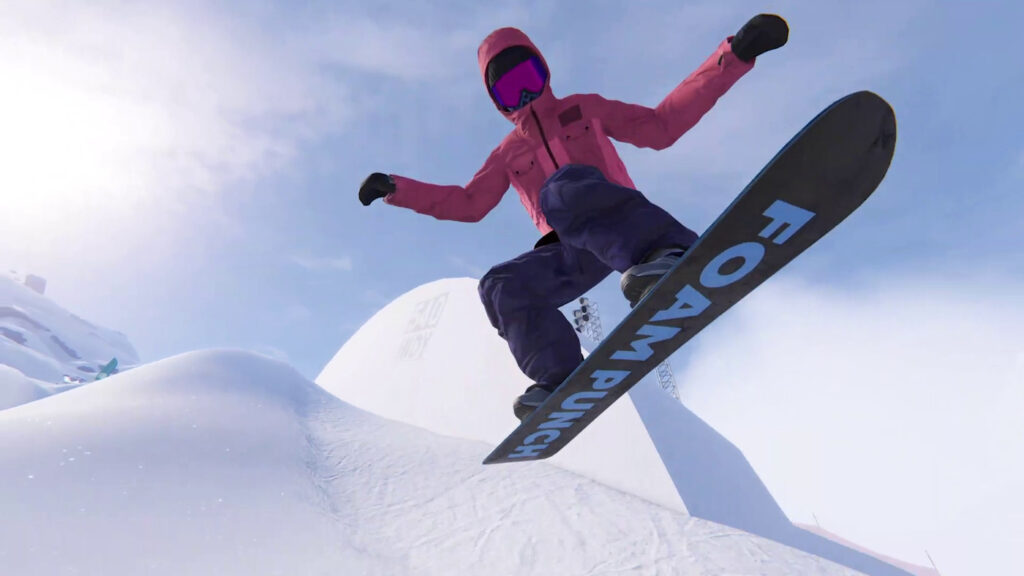 After wrapping up the campaign with a big Invitational event, the mountain is yours to conquer. Thanks to the Game Pass inclusion, the team hopes to welcome plenty of snowboarding freaks, which have been waiting long enough for a video game that focuses on nothing but the snowboarding experience. Reaching that amoung of players, makes it easier for the team to plan ahead and prepare more content down the line.
But for now, let's congratulate the team at FoamPunch with the release. Here's hoping you guys get to celebrate with a short ski trip that never happened because of COVID. See you on the slopes!