Bone-jour! If you like these kinds of jokes, Spookware will be right up your alley. The debut commercial game of Beeswax Games is available now on Steam and it's a must play for everyone into WarioWare and … cutting off heads? Let's take a look!
Spookware came to life inside the skull of game designer Adam Pype when he was creating a game every month (an exercise that also yielded the award-winning No Players Online). The collection of creepy microgames (with sound and music by regular compatriot Viktor Kraus) caught the eye of publisher Dread XP, who asked them to create more rapid-fire atrocities for an indie horror games collection. When they came back to him with the idea of expanding the game to a stand-alone production, Adam decided to call in the help of fellow DAE alumnus and movie buff Tibau Van den Broeck. The three of them co-founded Beeswax Games and Spookware production could start at full speed.
Described as a comical horror adventure, Spookware has you following the misadventures of three skeleton brothers. Having wasted their lives watching horror movies, they decide to go on a road trip to experience what life (or was it death?) really feels like. In this first episode (of a total four planned) you'll have to find a way to pass graduation before setting off across the Atlantic and solve a murder mystery on a cruise ship. All in a day's work for the Skelebro's!
Gameplay is a mix of exploration and silly dialogue (we double dare you to count the amount of skeleton gags or fourth-wall breaking remarks) and the aforementioned microgames. These are quick fifteen second interactions that explore all kinds of horror tropes. You'll have to pump up someone's blood, saw off a head, kickstart a heart, flash away ghosts, play Simon Says with a bunch of skulls, and so much more.
There's a lot of variety between the more than 50 microgames in this first episode. Some are based on reflexes, others lean into rhythm or puzzle games. Figuring out how to complete them within the strict time limit is always entertaining. Horror fans will also tip their hats to the many visual nods to popular horror stories and movies.
It's never scary (although there's a hint of that trademark No Players Online uncanniness in certain sequences), but that isn't the point. The plot and writing is as campy as some of the teen horror movies it pays hommage to (some jokes fall flat, others made us chuckle hard), but somehow it works. It works so well in fact that, instead of raising your eyebrows when asked to severe a human head from its body, you just start smashing your keys to get it off as quick and clean as possible. It's simply innocent, stupid skeleton fun.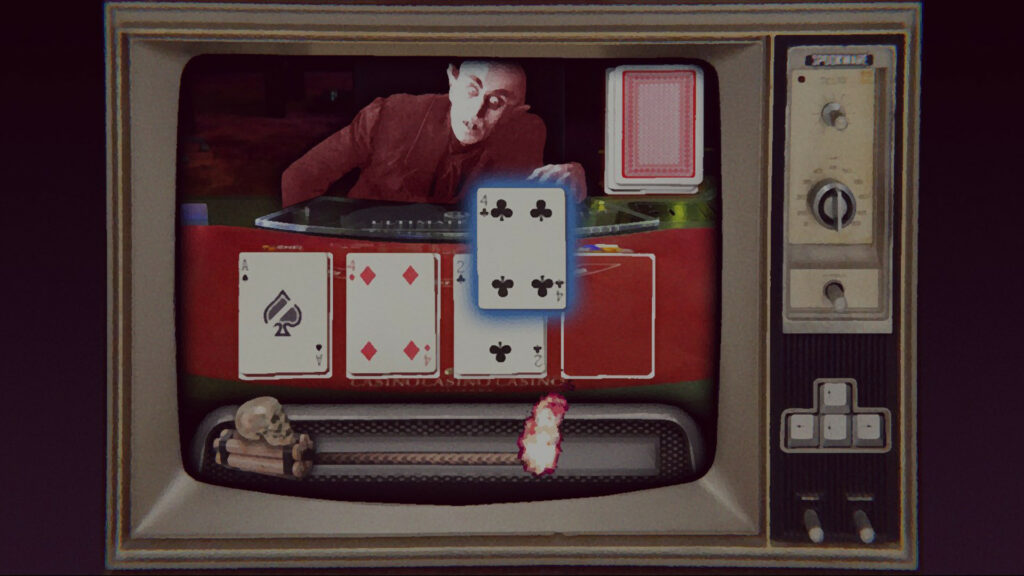 It's nice to see a young team like Beeswax Games come out with a debut release that feels both inspired and confident. Sure, there's things to improve in future episodes, but overall this is a solid debut that's worth your time. We're already looking forward to how this journey will continue. Also, will they ever run out of skeleton puns? Stay tuned!